Being a Siren's basically about being a bitch. Every time I go invisible – or stop being invisible – I explode with a burst of lightning. When I hit someone, my acidic fingertips start melting their faces off. Even when I'm just standing around I can continue electrocuting and setting fire to any poor soul who gets too close. Oh, and I'm a dab hand with shooting them in the face, too. You might think that this very special sort of bitchiness makes it difficult to form long-term relationships with people, but luckily, I have guys to back me up. Like that big guy and that other big guy and that slightly less big guy.
There are four classes in Borderlands, and everyone knows which is the best (Siren). They'll disagree with each other, obviously, because everyone else is clearly wrong, because clearly we all know which is the best, because it's our favourite, because we have pretty advanced tastes and only enjoy the finer things. Like the Siren class. It's best and you're wrong to disagree.
Unlike fellow co-op-em-up (yes) Left 4 Dead, Borderlands isn't really about working together. Sure, it's important to work at the same time, and very much in the same place, but you're not a team. You're showing off. You're demonstrating why your powers are so very much better than theirs. Brick's got explosive fists? Sure, but I turn invisible. Soldier's got a deployable autogun? I turn invisible. Hunter's got a pet bird? Sir, I refer you to my previous statement.
So yeah, it's co-op and it's competitive. And individual class-powers aside, the principle manifestation of this dick-swinging contest is played out through the vast array of penises guns available. Officially the game's arsenal runs to something like a metric kojillian metallic death-squirters, since they're all procedurally generated with varying statistics and effects. What this means is that among the standard shooters you're very likely to come across more esoteric pieces like a shotgun that ejaculates electric rockets (and therefore isn't really a shotgun but we'll let them off) or a magnum with a massive kitchen knife taped to the barrel. Finding a great unique weapon – and you will – makes the experience that little bit more personal and engaging. Which do I love more, my Dragon Age character or my new revolver which grows bullets? Geez, it's like choosing between your children.
The more Borderlands dives into this charmingly batty spirit of randomness the better it gets, and the guns are the high point of this. Enemies are similarly randomly assembled from a bunch of variables, but not to such a great extent, and sadly the environment itself – beautifully realised in graphic novel style as it is – is entirely set in stone. It's a shame because had the world of Pandora been procedurally generated it might have been the infini-game that everyone secretly wants and I personally make no secret about.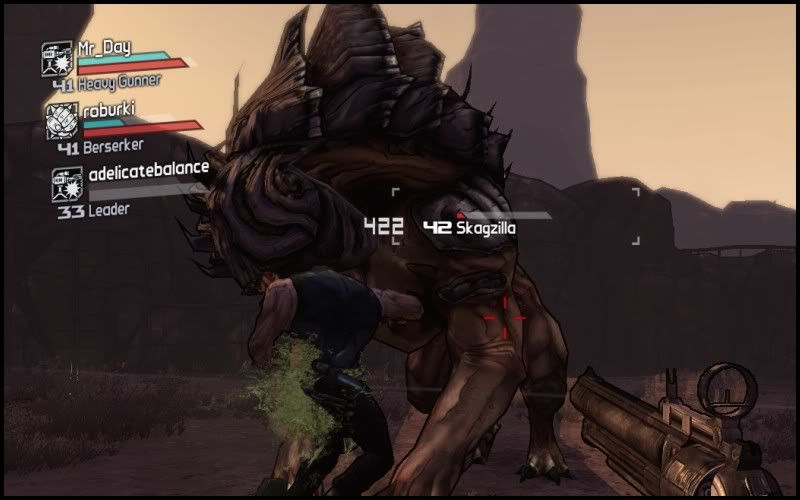 There is a story to hang the constant shooting silliness on like a coat hanger or filthy meat hook and it's passable enough, but not exactly inspiring. You and your friends are treasure hunters looking for The Vault, being led around by the brain-lobes by a crazy blend of Halo's Cortana (when she was crazy) and Dreamfall's Faith (if she was annoying) who talks to you from inside your head. She apparently wants you to find The Vault too but since it's not clear who she is, what she wants it for, and how she thinks she's helping by occasionally popping up and telling you to keep doing what other people already told you to do. What a useful lady.
Aside from your internal-mum the dialogue is generally of pretty sterling quality. Highlights come from born-in-a-barn hick Scooter who supplies you with vehicles throughout, and Tannis, a Vault researcher who's become unhinged after being left alone for too long with only a tape recorder for company. Her slide into clinical mentalness is documented through recordings left scattered around Pandora for you to find, and it's a shame there aren't more of these, because as System Shock and Batman: Arkham Asylum demonstrated, they're a great way to tell stories and add background colour. If you're okay with laughing at someone's mental problems, of course.. You monster.

Borderlands' problems stem from its archaic host/client tech, which is taken from Gamespy of all people. Honestly, I didn't know Gamespy even existed these days, and Borderlands is as good a demonstration as any for why it shouldn't. Only 20% of the people I've played with are able to act as host, the rest of us following like the miserable droogs we are. Compounded to that is that only the host can choose the active mission, and if clients aren't meticulously synced to this, they will have to go back and replay all the story missions again on their own if ever they want to catch up.It's a bugger, but a passable one. It's possible to enjoy Borderlands solo, which is what makes the game as a whole work. To do so is to deny yourself the greatest of joys however, in demonstrating why you're so much better than they are. After all, you turn invisible, you have acid fingernails and lightning nostrils, and there's the small matter of that gun of yours that you cradle every night and sing to…
Er. I don't sing to my guns.